UK Gourmet coffee roaster and supplier of fine coffees.
The Coffee Compass is a family run coffee roastery on the South Coast of England. Unlike many of the inferior and industrially produced coffee brands that you will find in the supermarket, the fine coffee blends and pure origin roasts that are featured on our website are sourced from farms that we have personally selected for the best in their region and using agronomy practices of an exceptional standard. We select from farms and mills that have a passion for producing exceptional coffee beans, farms that care about their practices and the impact on the environment and the care of their employees. At The Coffee Compass we have always found that good farm practices are synonymous with great coffee and that employees that are well paid and are valued by their employers work to a higher standard and help the farm to achieve excellence in the growing and production of gourmet coffee. The Coffee Compass is exceptionally demanding in ensuring that we only select the very best of the coffee crops from beans that have been harvested at optimum ripeness and have been prepared for export to the highest standard. We then roast on site to order to ensure maximum flavour and freshness or pack unroasted if requested before being despatched by courier for delivery, often the next day. In addition to our caffeinated roasted coffee beans, we have carefully selected and are able to provide the finest decaf beans available which are decaffeinated using natural techniques to ensure none of the rich flavour, unique texture or aromatic fruitiness is lost.
Of course, it is true to say that no two coffee drinkers have exactly the same tastes but whatever your preference be it strong and rich, light and fruity or smooth and creamy coffees, we pride ourselves on being able to cater for the individual needs and preferences of everyone who uses our website.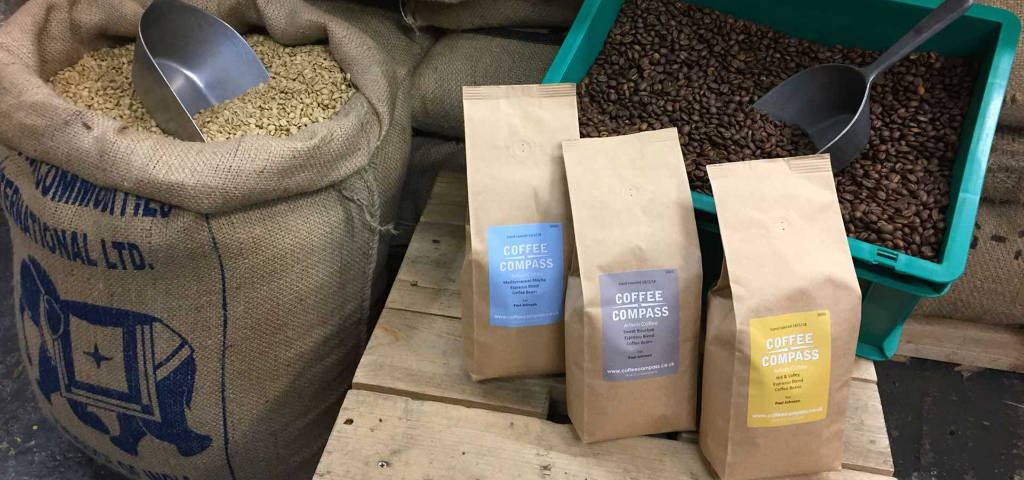 Over the years we have developed an unrivalled level of expertise where gourmet coffee is concerned and if you have any questions or you would like us to recommend a product based on your partialities then we are always available to offer our help and advice. We also offer trial ranges of coffee selections and todays random roast packs giving you a chance to use our expertise as coffee roasters and selectors to try coffee that you may never have tasted. As experienced coffee roasters this could be a way gain a good insight into the types of coffee available by trying them out for yourself. We also run a "Coffee Club" whereby subscribers are sent a new package each month containing our pick of our exceptional coffee selection.

If you prefer to roast your own coffee then you will be simply delighted by our superb choice of fresh green coffee beans which are sourced directly from the most renowned growing estates in the world.
Next Day Delivery Mon-Fri before 1pm